About a week ago I called FPL (Florida Power & Light – our electric company) about electric arcing from the wires to a palm tree in front of my house.  In my call with them they said it could take up to 21 days before someone came out to look at it.  You can imagine I wasn't too happy considering the severity of the situation and how this was a fire hazard to my home and family.
This morning I noticed a pamphlet on my door from FPL – I looked at and was shocked at what I saw.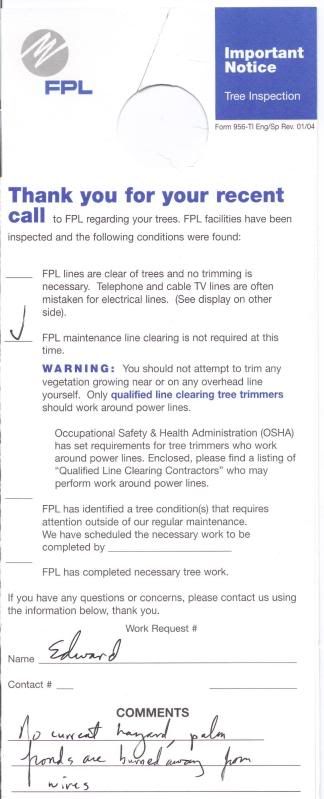 Wait did I read that right? Seriously, I misread it, so I took a closer look:

Yes, I was not reading it wrong. Their comments were "No current hazard, palm fronds are burned away from wires" (nice pun, by the way). So, there is no hazard because there was already a fire and it was burned away from the wires. Now, I'm no alarmist but when I saw the arcing, I was estimating it was between 6-12 inches long. That's a lot of power – most armature Tesla coils don't even go out that far.
Mind you, this is a company that owns and operates multiple nuclear power plants. I can see FPL now, as an online buddy of mine put it, "Oh meltdown, it's one of those annoying buzzwords. We prefer to call it an unrequested fission surplus". Can't wait to see them use that one at Turkey Point or in Seabrook, NH.
What will FPL do next?
Leave a Reply